You've probably heard of 3G, 4G, 5G and WiFi. In today's increasingly mobile world, there are a variety of ways to get connected to the Internet. What's really the most reliable and safest way? Truth be told, in-building wireless is the most secure option, improves on cellular coverage and the only technology your customers can actually rely on to call 911.
WHILE WIFI CAN OFFER CONNECTIVITY, IT COMES WITH A HIGH PRICE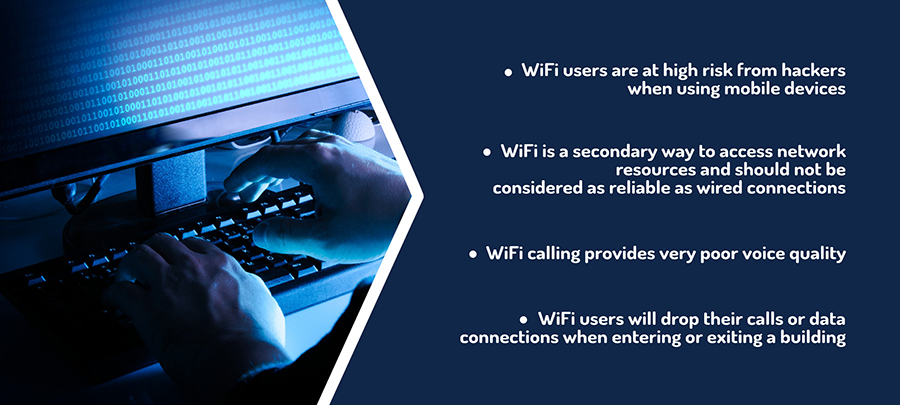 WIFI IS NOT ENOUGH
When it comes to emergency calls over WiFi, 911 operators may not dispatch to the exact location. The consequences of this could be tragic. Imagine your loved one at a hospital, or inside their dorm, feeling unsafe and not being able to call for help due to the lack of cellular coverage. The smart phone is the primary device used in these critical situations. The is not the time to have to search for WiFi access.
THESE ARE REAL SCENARIOS WHICH CAN ALSO EXPOSE BUILDING OWNERS TO LITIGATION. LACK OF INDOOR CONNECTIVITY IS A REAL PROBLEM THAT MUST BE FIXED WITH A PERMANENT, RELIABLE, SAFE SOLUTION LIKE AN IN-BUILDING WIRELESS SYSTEM FROM TELECO.
YOU MUST BE SURE YOUR CUSTOMERS ARE SAFE! A DISTRIBUTED ANTENNA SYSTEM IS THE ONLY WAY TO MAKE THAT HAPPEN.